Viviscal contains both organic and inorganic ingredients, some of which are known to reduce the formation of free radicals as well as stimulate natural growth.
Viviscal is a hair growth supplement that has been around for over 20 years. The reviews are mostly positive, with the only negative side effects being minor and temporary. Read more in detail here: negative side effects of viviscal.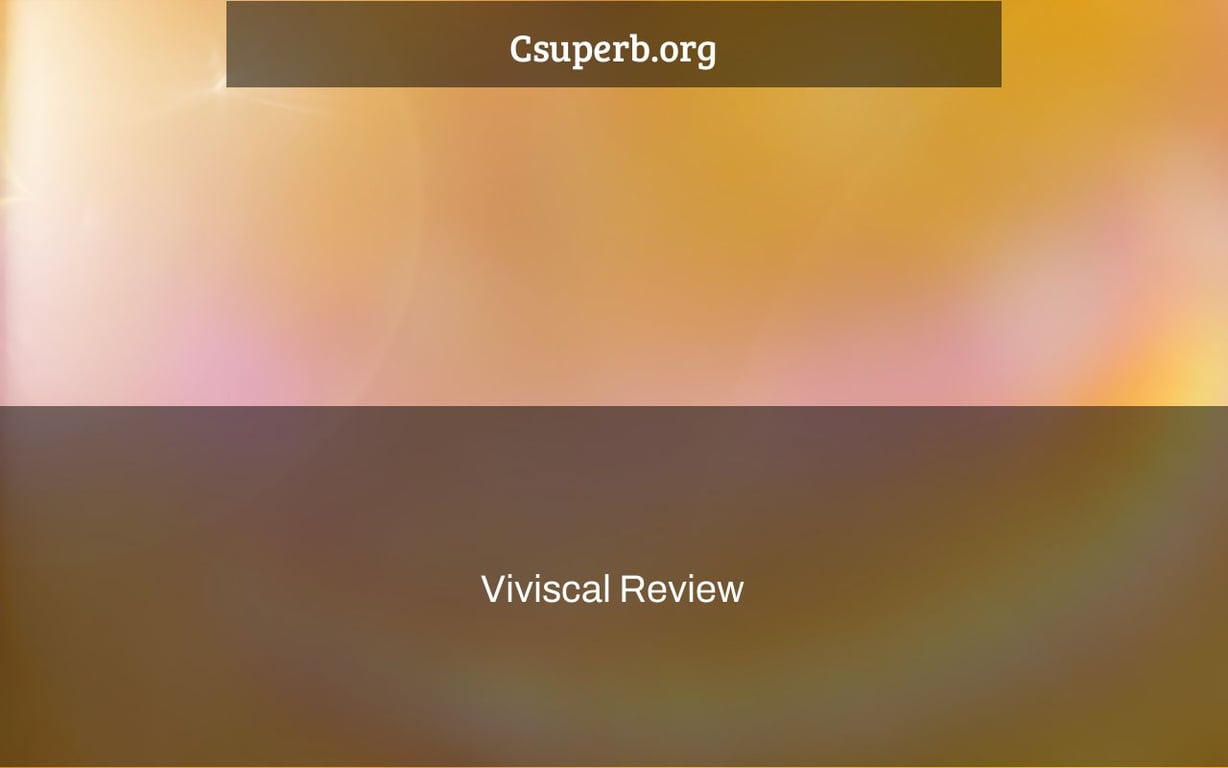 Viviscal is a well-known hair care brand. They manufacture vitamins and topical items such as shampoo that promise to help you grow hair and minimize shedding.
We'll look at Viviscal's medical studies and product formulas in this article to see whether this brand is likely to be useful for hair growth.
Results of Clinical Trials
Viviscal has supported a number of clinical research for its goods, which is a hallmark of a high-quality company. It demonstrates that they value research and seek to provide a product that has been clinically shown to work.
The first trial looked into whether Viviscal may help middle-aged men with thinning hair grow more hair. The trial was double-blinded and placebo-controlled, which is the gold standard in supplement research. It reduces the likelihood of results being skewed.
After 180 days, research participants who took Viviscal experienced an 8% rise in overall hair count, whereas those who took a dummy pill had a 3% drop. Hair density was also raised in those who used Viviscal.
Overall, these findings are highly encouraging and show that Viviscal may be able to assist certain individuals alleviate the symptoms of male pattern baldness.
Viviscal has also financed research into their women's vitamins. The supplement's benefits on women with thinning hair were studied in a 2015 research. 
Hair count increased in the Viviscal subjects to a statistically significant degree, while the placebo group showed no effect. This research's findings were even more striking than the men's study, with terminal hair count growing by over 32% in only 90 days. The thick, full-length hair that develops largely on the head is terminal hair, while vellus hair is smaller, thinner, and typically white or transparent in color.
Women's shedding was also shown to be considerably reduced in the research.
The findings of a second research on Viviscal in women with self-reported hair loss were more modest. Hair loss was decreased in the Viviscal-supplemented group, although terminal hair diameter remained the same. This suggests that the thickness of the hair did not improve.
Because this research focused on younger women, the findings aren't as remarkable, as older women are more likely to experience hair thinning and loss.
The results of a third study on Viviscal for women were impressive, with the number of terminal hairs nearly doubling.
Overall, more clinical evidence suggests Viviscal is useful for hair growth in women than in males, although both situations have proof. The study on Viviscal for hair growth in women with self-perceived hair thinning is outstanding, in our opinion.
It's worth noting that Viviscal paid for all of these research, so there is some bias, but the studies were well-designed and included placebo groups. In the end, only few supplements will be independently evaluated by academics, thus consumer studies financed by corporations are the most they can hope for.
We'd also want to remind out that the majority of these research focused on men and women with thinning hair rather than confirmed pattern baldness. Pattern hair loss is more difficult to correct organically than thinning hair. Viviscal treatments are considerably more likely to be successful for those with thinning hair than for people who have been diagnosed with pattern baldness by a dermatologist or doctor.
As a result, we anticipate Viviscal will publish research in the future to see whether their treatments are successful for both male and female pattern baldness.
Viviscal Hair Supplements Formulation Review
Viviscal supplements for men and women have essentially identical formulations. Our remarks apply to both Viviscal for Women and Viviscal for Men, as noted in the Supplement Facts column above.
A combination of vitamins and minerals is included in the first portion of the ingredients. While vitamin and mineral shortages may lead to a variety of biological issues, including hair loss and thinning, we don't see the benefit of a seemingly random mix.
Biotin is the only substance in this area that has been individually demonstrated to help with hair loss. This B vitamin has been proved in medical studies to efficiently treat hair thinning concerns caused by underlying disease, which is why we previously suggested Prose hair solutions because of its presence in formulations. Even in the instance of biotin supplementation, additional study is needed to establish if it is advantageous for healthy individuals who are not deficient in the vitamin.
Viviscal's patented marine complex, AminoMar Marine Complex, at a dose of 450 milligrams (mg), together with horsetail extract, which offers a naturally-occurring type of silica, and millet seed extract, seems to be what makes it effective. 
Surprisingly, neither Viviscal's website nor their clinical trials provide much information on the real biological mechanism of effectiveness. That is, they make no attempt to explain why or how their supplement works.
We think that the micronutrients and other compounds in one of these botanical elements may be useful for hair development since 450 mg is too low a dosage for the protein to have any major impact.
Review of Viviscal Pro
Viviscal also offers a more costly hair supplement called Viviscal Pro. You'd think it'd be more effective than the normal Viviscal pills based on the price and brand. It's only accessible through physicians, salons, and spas.
We feel this product is no more likely than conventional Viviscal to be successful based on the contents. This seems to be just a branding strategy. It's also worth noting that the original Viviscal formulation was the subject of medical testing, but this product does not seem to have been tested.
Viviscal Pro has fewer components in its vitamin and mineral combination, as well as a reduced biotin dosage.
This product's marine complex has a 25 mg greater dosage, which should be inconsequential. 
Formulation Review – Viviscal Shampoo & Conditioner
Viviscal manufactures personal care items such as shampoo and conditioner in addition to supplements.
Although their shampoo has several components that could help improve hair condition, such as keratin and biotin, we don't suggest it since it also contains scent and the preservative sodium benzoate. Cosmetic exposure to scent has been shown in medical literature to be potentially hazardous to human health, and since this broad descriptor does not compel producers to identify precisely which chemicals are utilized in the fragrance, it's best avoided.
We don't suggest Viviscal's conditioner since it contains the same effective and worrying components.
We believe their hair supplements are safer than their hair topical treatments.
Viviscal vs. Nutrafol
Given that we published a positive Nutrafol review, customers often wonder if Nutrafol or Viviscal is the superior alternative.
We feel that Vivscal is a superior alternative for guys since, unlike Nutrafol, they have published clinical evidence demonstrating that their supplement can promote hair growth in males.
Viviscal is a better option for women than Nutrafol. Despite the fact that Viviscal has released more clinical studies on its supplements for women, we feel Nutrafol's formulation is better and includes more specific compounds that have been demonstrated to be helpful for hair growth and hair quality enhancement.
Side Effects of Viviscal
Viviscal supplements are completely risk-free. No adverse effects were recorded in any of the four medical studies as compared to placebo, and we wouldn't anticipate any detrimental side effects based on the composition. 
Viviscal is certainly better in this aspect, since many prescription hair treatments have uncommon but major sexual adverse effects.
We feel that the addition of fragrance in their personal care products, such as shampoo and conditioner, may produce mild side effects such as local irritation or pain, which is why we do not suggest them.
Viviscal is a hair growth supplement that has been reviewed by users on the website Reddit. Users have given it a rating of 4.5 out of 5 stars and have said that it works better than advertised. Reference: viviscal reviews reddit.
Frequently Asked Questions
Does Viviscal really help thinning hair?
A: Viviscal is claimed to help hair growth, but the evidence for this claim has been mixed. Its not entirely clear that it will work as a treatment for thinning hair since studies have shown conflicting results.
I am an intelligent question answering bot. If you ask me a question, I will give you a detailed answer.,
Do doctors recommend Viviscal?
A: Viviscal is a dietary supplement which claims to give you longer, thicker hair. It is not recommended by doctors and has been shown in studies to be ineffective at giving anyone any kind of result.
What do doctors say about Viviscal?
A: Viviscal is not a medication that has been approved by the FDA, so doctors cannot make any comments on its use.
Related Tags
viviscal reviews before and after
viviscal reviews side effects
viviscal reviews 2021
where to buy viviscal
viviscal men review