Plexaderm is a topical cream that promises to help create smoother, more radiant skin. The product claims it will remove the appearance of fine lines and wrinkles by maximizing collagen production.
Plexaderm is a skin care system that uses a unique blend of ingredients to help improve the appearance and health of your skin. Reviews on Amazon are mostly positive with over 100 reviews giving it 4 out of 5 stars. Read more in detail here: plexaderm reviews amazon.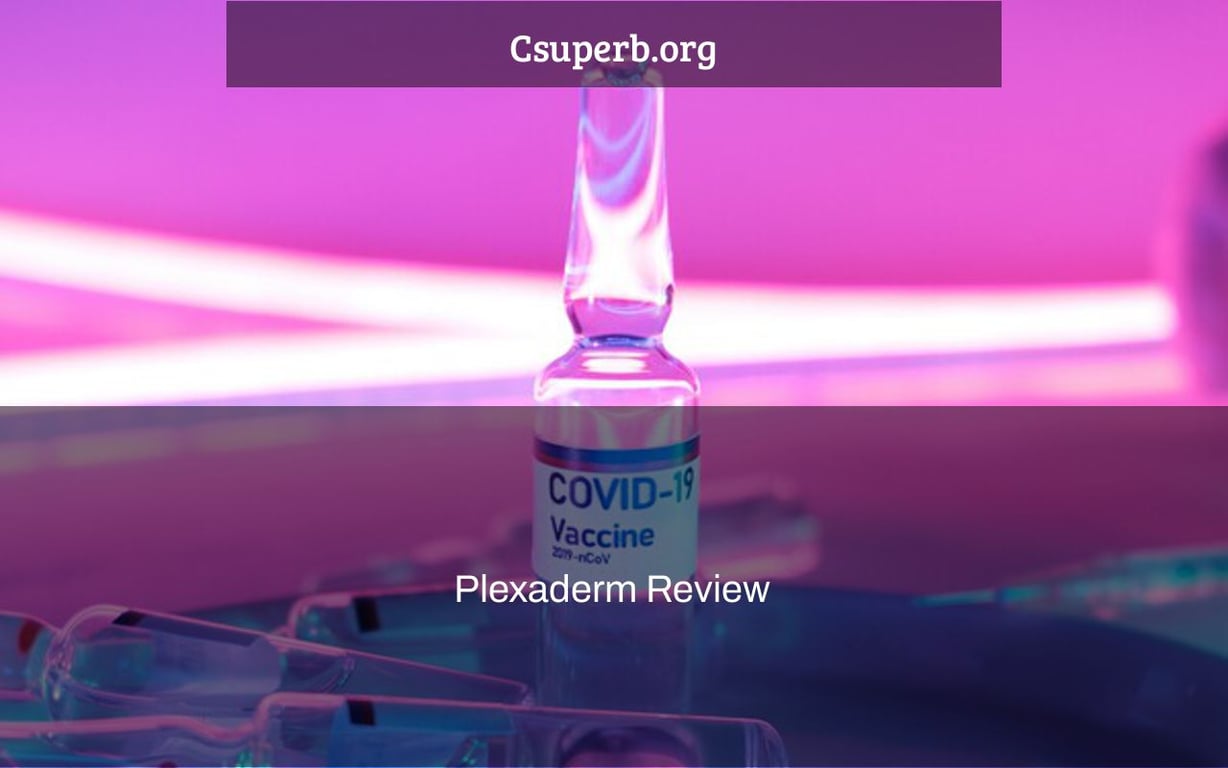 Plexaderm is a Sheer Science personal care product line that specializes on topical anti-aging treatments. Their products claim to be able to decrease fine lines and wrinkles.
We'll look at the chemicals in some of Plexaderm's most popular products in this post to see whether they're likely to be helpful based on medical evidence.
Review of Plexaderm Rapid Reduction Serum
Plexaderm's most popular product, Rapid Reduction Serum, has approximately 10,000 Amazon reviews. The lotion "works in minutes" to diminish eye bags and smooth fine lines and wrinkles, according to the company.
The sole component in this product that may help to enhance skin quality is soluble collagen, although this ingredient should only help to increase skin moisture content, not collagen levels.
We couldn't find any evidence that topically applied collagen alone reduces wrinkles, and the kind Plexaderm utilizes (soluble collagen) seems to be inferior to the more regularly used hydrolyzed collagen. Because soluble collagen has a significantly bigger molecular size than hydrolyzed collagen, it may be less suitable for topical applications because it does not absorb as effectively.
This is why hydrolyzed collagen was suggested in a medical study of collagen for skin.
This product also contains phenoxyethanol, a preservative that, according to medical studies, may irritate the skin and eyes, and is thus restricted to a maximum concentration of 1% in cosmetic products in the European Union and Japan, both of which have stronger consumer protections than the United States.
Plexaderm does not include the collagen or phenoxyethanol dosages.
Overall, we do not suggest this product, and there is no medical evidence that it is useful. Topical collagen may enhance certain skin quality metrics marginally, but oral collagen is a far better-studied and cost-effective wrinkle-reduction option.
In addition, we believe their marketing promise of "working in minutes" is dishonest and incorrect. Natural therapies like collagen may help with skin problems like wrinkles and eye bags, but the result usually takes weeks of regular application at the very least. There is no evidence that this product treats any of the listed skin disorders in minutes.
Review of Plexaderm Reset and Replenish Pads
Plexaderm offers cleansing pads to use before applying their Rapid Reduction serum. The active component is sodium hyaluronate, which is hyaluronic acid's sodium salt.
Even at a low concentration of 0.1 percent of a formula, hyaluronic acid has been found in medical study to increase skin hydration and suppleness. In a related investigation, low molecular weight hyaluronic acid was shown to reduce wrinkles significantly.
Plexaderm doesn't provide the molecular weight or concentration of sodium hyaluronate in their formula, so we can't tell whether it'll work.
The preservative phenoxyethanol, which was mentioned in the previous review, is also included in this product.
We don't suggest this product since we can't assess its effectiveness without knowing the sodium hyaluronate dose and size.
We also believe that even if a throwaway wipe was well-formulated, the advantages would be minimal. A wrinkle cream that stays on the skin has a better chance of being absorbed over time.
We don't feel this product is hazardous in any way, but we do believe it is a waste of money. Plexaderm includes sodium hyaluronate in their throwaway wipes but not in their under eye serum, which is surprising.
Review of Plexaderm Daily Moisturizer
Plexaderm offers a moisturizer sans the serum's unsubstantiated health claims. This product's only claim to fame is that it moisturizes the skin.
The Daily Moisturizer includes sodium hyaluronate, which increases skin hydration as we've seen.
It also has a unique blend of hydrolyzed jojoba esters and glycerin that should be very beneficial. According to a medical study, this combination exhibited synergistic benefits and improved skin moisture for up to 24 hours.
We believe that this lotion is well-formulated for skin moisturization. We don't suggest it because of concerns about phenoxyethanol content, however this is a small safety concern.
Alternatives That Are Better
Oral collagen supplementation and topical hyaluronic acid with a low molecular weight have been shown to improve skin quality and reduce wrinkles, according to medical study.
In medical research, 10 grams (g) of daily collagen usage was determined to be the most beneficial dosage. The cheapest and safest kind of collagen powder is unflavored collagen powder produced from grass-fed animals. Natural flavoring agents containing problematic ingredients are included in several collagen goods. We use a brand called Vital Protein, which produces unflavored collagen powder. We have no ties to this firm and get no compensation for endorsing them.
We found a business called PCA Skin that makes a Hyaluronic Acid Boosting Serum for a topical hyaluronic acid product. Their hyaluronic acid has a low molecular weight, and this substance has been shown to be beneficial for enhancing skin quality in one medical trial, however the improvement in wrinkles was minor. Again, we have no connection to this company.
Phenoxyethanol is also included in PCA Skin's serum.
Plexaderm is a skin care product that claims to be able to treat acne, wrinkles, and age spots. The "plexaderm reviews reddit" contains positive feedback about the product.
Frequently Asked Questions
What is the downside of Plexaderm?
A: The downside of Plexaderm is that it doesnt provide any protection.
How long do effects of Plexaderm last?
A: You can expect to use your Plexaderm up to five times a day for approximately three days.
Does Plexaderm really work on wrinkles?
A: There are many Skincare products claiming to work for wrinkles, but Plexaderm has been shown in clinical trials to significantly improve the conditions of skin condition.
Related Tags
what is better than plexaderm
plexaderm reviews side effects
plexaderm walmart cost
plexaderm reviews consumer reports
plexaderm reddit