It Works is a company that sells topical skincare products and nutritional supplements. The latter of which are sold in powdered form, meant to be mixed with water or milk before consumption. Alongside their website where consumers can purchase the product directly from them, they have developed a review section for those who would like more information about the various products on offer.
The "it works global under investigation" is a review of the company It Works. The article does not provide any information about whether or not the product actually works, but it does provide some interesting facts about the company.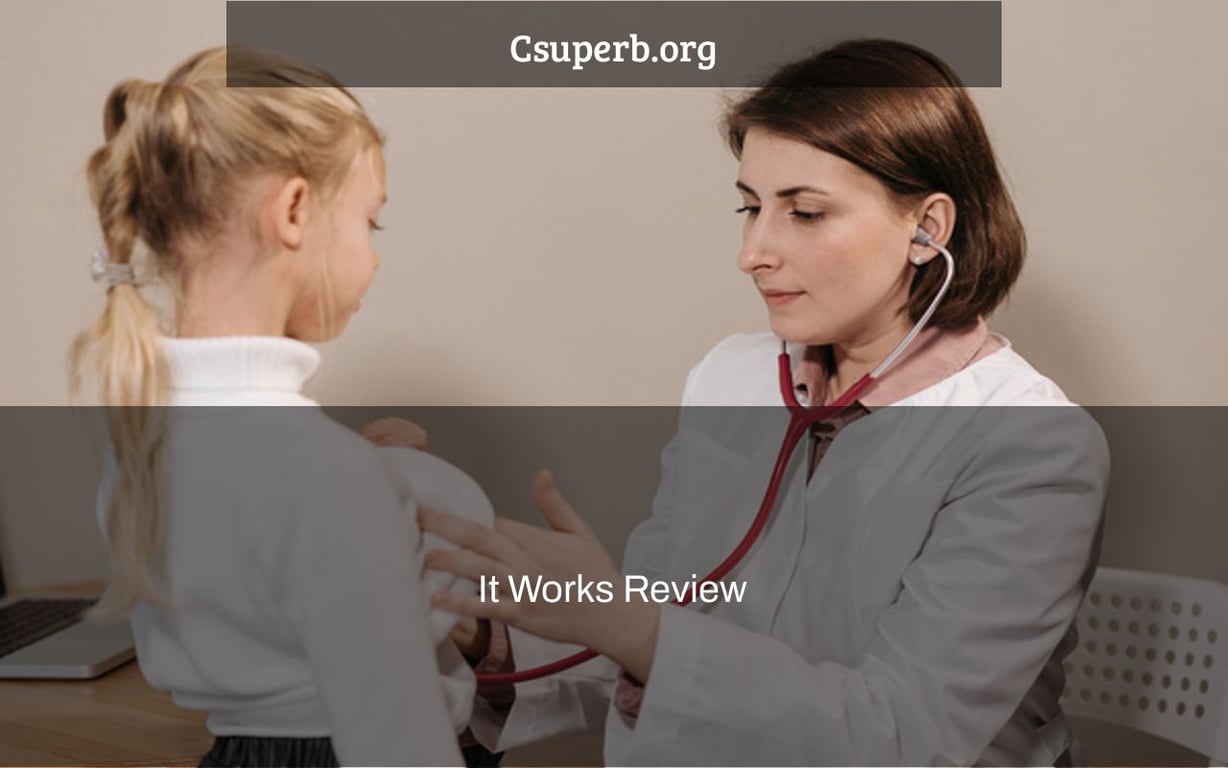 It Works is a female-targeted supplement and health food business. The names of most of their goods, such as "Skinny Cold Brew" and "Slimming Gummies," plainly indicate weight reduction advantages.
In this post, we'll look at numerous It Works product formulas, such as Slimming Gummies, Fat Fighter, and Super Greens, to see whether they're likely to be helpful, as well as some cheaper and better alternatives.
Slimming Gummies It Works Review
If you've read our Goli reviews (ACV gummies with a similar composition), you already know how we feel about gummy goods with overblown health claims. We have yet to come across a gummy product that is adequately developed for any health aim.
Apple cider vinegar is included in 500 mg of It Works Slimming Gummies (ACV). This is the same dose that Goli contains. It's a lot less than the ACV dosages used in most medical studies. The ACV in It Works is generic, but the ACV in Goli is standardized for 5% acetic acid, which seems to be a preferable alternative given that the majority of published studies on ACV for weight loss uses a standardized formulation.
200 mg of Morosil, a proprietary blood Orange fruit extract, is the only additional active component in It Works Slimming Gummies. According to Morosil's own site and clinical research, this is underdosed. It is suggested that you take 400 mg every day. Of course, you could just double your gummy dose, but the fact that their portions don't even represent the correct quantity of one of two active substances, in our view, is a clue the corporation doesn't know what they're doing.
At 400 mg/day, research participants lost more weight and had a smaller waist circumference than placebo, according to the Morosil clinical trial. If you do decide to consume these candies, we suggest doubling the serving size to get the recommended dose.
This product's inactive components are better than those in Goli. Chicory root, a healthy prebiotic fiber, coconut oil, paprika, and a few more non-toxic components are all included. Natural flavorings are normally avoided, but in the context of a product that is otherwise well-formulated, it isn't a serious worry. It's great that there are no added sugars in this product.
Overall, we think this formulation is better than rivals like as Goli, but the health claims are still false based on the dose provided. With a retail price of $67, it's also prohibitively pricey. Morosil, at 400 mg/day, is the most promising ingredient in this combination, but it's difficult to get in isolation.
Fat Fighter Review: Does It Work?
Fat Fighter, a capsule supplement sold by It Works, has more active ingredients than the gummies. The first element is chromium, a mineral that has been examined for its ability to aid weight reduction. We haven't found any evidence that the quantity in this product (150 mcg) is effective. One trial demonstrated no benefit from 1000 mcg of chromium for weight reduction. While some research showed advantages, "chromium as a weight reduction tool remains dubious," according to a meta-analysis. The majority of the doses in the trials that were chosen were greater than in It Works Fat Fighter.
The second active component is 500 mg of NeOpuntia, a proprietary cactus extract. There was one research that looked at this chemical for weight reduction potential, however it only examined fecal fat excretion. In essence, the substance may cause you to excrete more dietary fat than normal, but there is no evidence that this contributes to weight reduction.
There's also a 442 mg prop combination comprising a variety of different substances.
Garcinia was somewhat helpful for short-term weight reduction, according to a meta-analysis, however the doses used in virtually all of the research were substantially greater than the total prop mix dosage in It Works Fat Fighter (of which garcinia is only a fraction).
In one research, white kidney bean extract was proven to have a modest influence on weight reduction, although it is underdosed in the It Works Fat Fighter formulation. The individuals in the research took 1000 mg of white kidney bean extract, but the total prop mix, which contains additional substances, is less than half that amount.
The Fat Fighter product has additional components, but we'll presume they're underdosed since the total dosage is 442 mg and there are eight component ingredients. If they're averaged, that's just 55 mg per component, which is rather low, as the studies above show.
Although this product looks to include beneficial weight-loss substances, virtually all of them appear to be underdosed. It would probably make more sense to take one chemical at a dose that has been shown to be helpful rather than a combination of compounds at dosages that are lower than those used in medical studies.
Review of It Works Super Greens
Two mixes containing a range of plant chemicals are included in the Super Greens product. There's no danger in taking a blended greens powder as long as it's free of contaminants (which It Works doesn't guarantee), but it's a highly expensive method to gain micronutrients.
The selling price of this product is $65 and there are only 30 servings. For $65 you could receive fresh local greens in far larger dosages for a month.
The total amount of greens in the greens mix is 4.8 g. One cup of kale has 20.6 g, or nearly 5 times the amount of spinach.
True, water and fiber make up a large portion of raw kale's weight, but this is simply one example of how green powder products may be pricey. However, if you have extra cash and want the convenience, go for it.
We have no objections to this formulation since it is just for general health and does not make any particular, substantiated health claims.
Alternatives to Weight Loss That Work
Increasing insoluble fiber consumption while lowering total calories is, in our view, the cheapest and most successful weight reduction technique.
Fiber helps you feel full, which may help you avoid cravings and binges, and it's been shown in medical studies to be a successful weight-loss method.
Increased insoluble fiber consumption is also less expensive than weight-loss medicines, whether they're over-the-counter supplements like It Works or FDA-approved pharmaceuticals like Plenity (which we reviewed here).
The "it works weight loss reviews" is a supplement brand that promises to help people lose weight. The company has been around for a while, and there are many reviews on the internet about it.
Frequently Asked Questions
Is ItWorks a legit company?
A: ItWorks is not a legit company.
Can you lose weight with it works?
A: It works is not a weight loss program. Rather, it is an overall wellness program that helps you live your life in the best possible way and with determination to make those changes happen!
What happened to ItWorks?
A: ItWorks is no longer a functional company as they were forced to cease operations on December 3rd, 2018.
Related Tags
it works lawsuit 2021
it works reviews 2021
it works reviews reddit
new you it works reviews
it works reviews bbb