Ginkgo biloba extract is a supplement that has been used for centuries. It's now being studied by scientists to find out how it works in the body, and what benefits people can expect from taking it on a regular basis.
Ginkgo biloba extract benefits are many, including memory and concentration. Ginkgo Biloba Extract Capsules can be taken in the morning or evening to help with focus. Read more in detail here: ginkgo biloba extract benefits.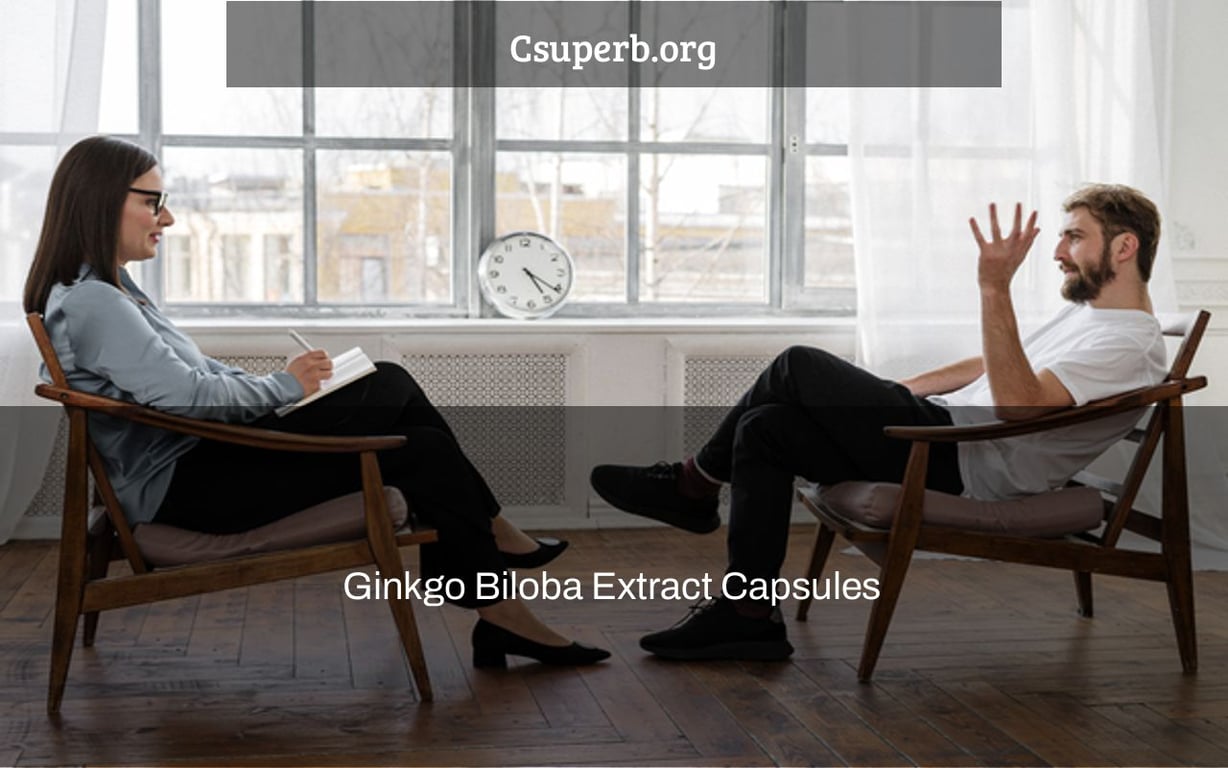 What is Ginkgo Biloba, and how does it work?
Ginkgo biloba extract is a herbal extract made from the Maidenhair Tree's leaves. In China, it's a popular "herbal tonic," a substance that's said to energize the body, increase mental clarity, and decrease inflammation.
A considerable number of scientific articles have recently been released that support these findings. Ginkgo biloba extract has been found to boost memory and cognitive performance in a number of trials. Ginkgo is often used as an adderall substitute because to its significant nootopic effects.
Ingredients: 240 mg Ginkgo Biloba Leaf Extract Standardized to Minimum 24% Flavone Glycosides & Minimum 6% Terpene Lactones, Rice Flour, Hypromellose (Cellulose Capsule), Magnesium Stearate, Silicon Dioxide
Medical Research on Ginkgo Biloba (Efficacy & Safety):
1. "The findings from a standardized neuropsychological assessment and a subjective, self-report questionnaire combined suggested that relatively short-term (i.e., 6 weeks) use of Ginkgo biloba extract EGb 761 may prove efficacious in enhancing certain neurocognitive functions/processes of cognitively intact older adults."
The whole study may be seen here.
2. "Overall, the results of both objective, standardized neuropsychological tests and a subjective, follow-up self-report questionnaire provided complementary evidence of the potential efficacy of Ginkgo biloba EGb 761 in enhancing certain neuropsychological/memory processes in cognitively intact older adults, 60 years and older."
The whole study may be seen here.
3. "The [Ginkgo biloba] group demonstrated a decrease in blood viscosity, increased cerebral perfusion in particular locations, and improved overall cognitive performance after therapy." Higher blood viscosity, reduced brain perfusion (in particular locations), and cognitive impairment in several tasks were seen in the control group."
The whole study may be seen here.
4. "[Gingko biloba] at 240 mg/day stabilizes or slows loss in cognition, function, behavior, and global change in cognitive impairment and dementia at 22-26 weeks, particularly in patients with neuropsychiatric symptoms."
The whole study may be seen here.
5. "With [Ginkgo biloba], we saw signs of better cognitive flexibility without changes in brain activity, implying increased processing efficiency."
The whole study may be seen here.
6. "In MCI patients, ginkgo biloba leaf tablet demonstrated excellent efficiency in enhancing episodic memory function."
The whole study may be seen here.
"[Ginkgo biloba]-treated participants improved considerably in quantity of recall, i.e., the number of correctly remembered appointments, after 6 weeks… [Ginkgo biloba] (240 mg once day) enhances free recall of appointments in middle-aged healthy volunteers, a task that places a high demand on self-initiated retrieval of previously acquired content. This function has been shown to be sensitive to normal aging, i.e., it is diminished in healthy middle-aged people."
The whole study may be seen here.
"These findings suggest that taking Ginkgo biloba for a short period of time improves cognitive function in healthy young people."
The whole study may be seen here.
9. "As a dietary supplement, dosages vary from 80 mg to 240 mg of dry extract split into two or three daily doses, with a suggested daily intake of 120 mg… Ginkgo has been evaluated in a number of controlled studies and has a strong long-term safety profile."
The whole study may be seen here.
10. "In terms of safety, the adverse event profile of [ginkgo biloba extract] was not different from that of the placebo in all studies analyzed."
The whole study may be seen here.
Ginkgo biloba extract capsules are a supplement that can be taken in a variety of ways. Too much ginkgo biloba dosage is not recommended for people who have had blood clotting problems or are taking blood thinners. Reference: too much ginkgo biloba dosage.
Frequently Asked Questions
What is ginkgo biloba capsules used for?
A: Ginkgo biloba is an extract of the leaves and has been used traditionally to treat memory loss, improve blood flow, increase oxygen levels in the brain, lower blood pressure and reduce anxiety. It is also sometimes taken by people with attention-deficit hyperactivity disorder (ADHD) or Alzheimers disease to help boost mood.
Is it OK to take ginkgo biloba everyday?
A: The drug ginkgo biloba is not approved by the United States Food and Drug Administration. Im sorry to say this, but you should avoid taking it.
How much ginkgo biloba should I take a day?
A: Ginkgo biloba is a plant and not a supplement, so there are no recommended dosing guidelines.
Related Tags
ginkgo biloba amazon
does ginkgo biloba cause cancer
ginkgo biloba benefits for brain
ginkgo biloba dosage
ginkgo biloba side effects