ArthriVarx is a popular supplement that claims to help repair damage from repetitive strain injuries. While the product has some impressive testimonies and reviews, it's not always easy for consumers to find unbiased information about supplements like this. This review will explore ArthriVarx's ingredients, side effects, and potential benefits as well as address whether or not you should try them out yourself.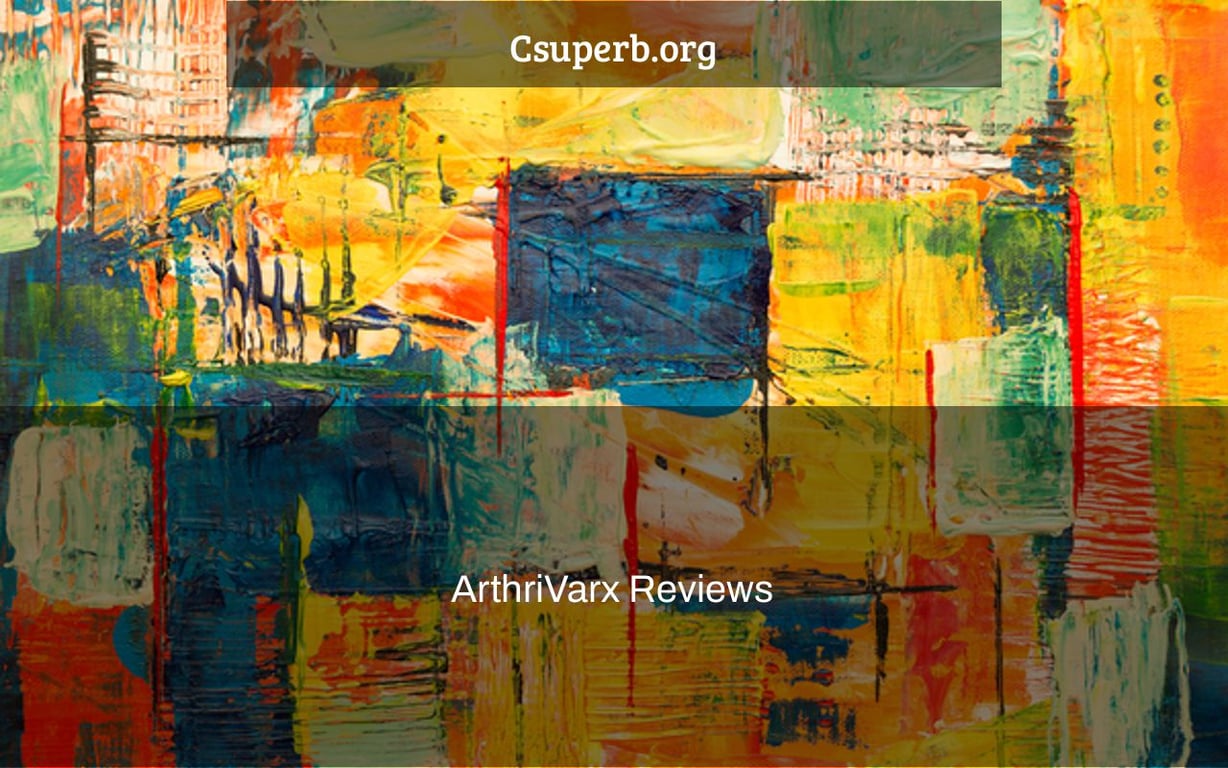 ArthriVarx Overview
Joint pain and inflammation may be distressing and interfere with normal activities. ArthriVarx is a treatment that tries to restore joint and cartilage degradation, hence alleviating painful symptoms.
It may also help with stiffness, flexibility, and mobility. Overall, the ArthriVarx evaluations were favorable, although some individuals did not find it to be beneficial.
What Is ArthriVarx and How Does It Work?
ArthriVarx has two main active components. Hyaluronic acid is a hydrating molecule that may help to lubricate the space between your joints, reducing stiffness and increasing mobility. Anti-inflammatory compounds in Andrographis paniculata help to reduce joint discomfort and swelling. It also contains antioxidants, which help to heal and preserve joints from environmental damage.
Who Makes ArthriVarx and Where Is It Made?
Innovus Pharmaceuticals, Inc, which was founded in 2011, manufactures ArthriVarx. It's a San Diego, California-based pharmaceutical firm. Aytu BioScience, Inc. owns Innovus, which is a subsidiary of Aytu BioScience, Inc. Adults and children's over-the-counter drugs are produced by the firm.
What Are ArthriVarx's Ingredients?
The key active components in ArthriVarx are as follows:
Andrographis Paniculata — This plant, often known as green chiretta, is native to India and Sri Lanka. It's antibacterial, antimicrobial, antioxidant, and anti-inflammatory, and it's rich in therapeutic characteristics.
It may aid in the reduction of joint pain and inflammation, as well as the healing and protection of joints and cartilage. The therapeutic qualities of this plant were investigated in an article published in the Asian Pacific Journal of Tropical Disease.
Hyaluronic Acid is a naturally occurring chemical that is predominantly present in the skin and connective tissue. It has the capacity to store 1000 times its weight in fluids, which lubricates the region between the joints.
This increases mobility and flexibility. Oral hyaluronic acid is beneficial in relieving knee discomfort, according to a study published in Nutrition Journal[1].
ArthriVarx's Scientific Basis
ArthriVarx includes Andrographis paniculata, a plant with therapeutic characteristics that is used to cure a variety of ailments. It possesses antibacterial and antimicrobial properties, as well as a high antioxidant content.
By eliminating damaging free radicals and decreasing oxidative stress, they aid in the healing of joint and cartilage damage. ArthriVarx also contains an anti-inflammatory substance that aids in the reduction of joint discomfort and swelling.
This product also includes hyaluronic acid, which has a high moisture content and may assist to lubricate the region between the joints. This may help to relieve stiffness and restore flexibility and movement.
What Are ArthriVarx's Advantages?
ArthriVarx may help with joint health in general.
It has the potential to improve lubrication and decrease stiffness.
They have the potential to reduce pain and inflammation.
This supplement may help to restore cartilage and joint problems.
ArthriVarx may help with overall immunity.
What Are ArthriVarx's Disadvantages?
Rice powder is a typical allergy in this product.
There are just two active components in ArthriVarx.
This is a high-priced supplement.
FAQs: Consumer Questions & Answers
In our research for this report, we found that consumers are frequently asking the following questions online in regard to ArthriVarx. Is ArthriVarx Safe? Warnings & Complaints
This might be a safe product with organic components of high grade. There are no chemical or artificial ingredients in this product. There are, however, a few circumstances that prevent you from using this product. Low blood pressure, bleeding problems, auto-immune diseases, and stiffened skin and connective tissue are among them.
What is the price of ArthriVarx?
ArthriVarx is available via the manufacturer's website, Amazon, Walmart, and a variety of other online and offline shops. On the market, the supplement is a little pricey, but if you purchase in bulk, you can save a little money.
What is the best way to take ArthriVarx?
1-2 pills per day, with a meal, is the suggested dose. For whatever reason, do not exceed the recommended dose.
Is there a free trial or a refund policy at ArthriVarx?
ArthriVarx does not provide a free trial. The maker offers a 90-day money-back guarantee. If you are dissatisfied with the goods, please contact the firm and return the products within 90 days after receiving your RMA (return merchandise authorization) number. The restocking charge will be deducted from your refund.
How does ArthriVarx stack up against other joint relief options?
Joint supplements come in a wide variety of pricing, although this one is significantly more costly than the typical. Most goods include more active chemicals than ArthriVarx, making them potentially stronger depending on what's in them.
What Are the ArthriVarx Side Effects?
The two components in ArthriVarx are only related with a few minor negative effects. When used orally, hyaluronic acid is completely safe. When used at a modest dosage, Andrographis paniculata may cause minor side effects such as rash, vomiting, diarrhea, headache, exhaustion, runny nose, and lack of appetite.
Is ArthriVarx a Good Investment?
ArthriVarx is a high-priced supplement on the market with just two main active components. These compounds may aid in the healing of joint and cartilage injury, as well as preventing it from future harm, lubricating the joint space, and lowering discomfort and swelling.
Some joint supplements, on the other hand, include additional components, making them more potent. Furthermore, the ArthriVarx evaluations are only fairly favorable. Although the product is likely to be effective, there are many different supplements available that are typically more economical.
What Do Customers Have to Say About ArthriVarx?
There aren't many ArthriVarx reviews online, and those that are there are mixed. The majority of consumers said that this product helped them to feel less pain and inflammation in their joints. Others are dissatisfied with the product; some consumers found it useless and disappointed with the outcomes.